Collaborations for an active role as a civilian in combating challenges
The "Rohama Baynahum" team, consisting of female volunteers from the University of Warith Al-Anbiyaa in a partnership with different universities, and the Holy Shrine of Imam Hussain A.S. This team demonstrated their commitment to providing essential first aid services to the underprivileged members of society during the world's largest annual mass gathering event in the city of Karbala. This event commemorates the Martyrdom of Hussain (Peace Be Upon Him) and His devoted companions, who valiantly fought for justice during challenging times against a tyrannical ruler.
Operating in small groups of 5-6 individuals, these dedicated female volunteers attended to various critical areas that demanded immediate attention in terms of first aid and emergency services. Multiple groups worked simultaneously, with subsequent batches seamlessly taking over, ensuring continuous coverage. This collaborative approach not only fostered valuable lessons in teamwork, emergency response, and empathy but also allowed these volunteers to assist and support those in need.
For a duration of ten days, these tireless female volunteers provided uninterrupted, round-the-clock first aid services near the Holy Grave of Imam Hussain A.S and His companions. The gathering comprised individuals from different countries, congregated in limited space. In addition to their first aid duties, these volunteers offered translation services to tourists who required medical assistance and directed them to nearby hospitals or dispensaries whenever necessary.
The University of Warith Al-Anbiyaa took the initiative to provide comprehensive first-aid training to all the volunteers, students and staff from University of AlZahraa and several other places were also welcome to join same training, regardless of their backgrounds. This noble cause attracted participation from students and staff members from diverse faculties, extending beyond nursing and medical colleges. By offering their time and skills, these volunteers exemplified their dedication to serving individuals in need of assistance.
Maintaining a high standard of hygiene was a significant priority when delivering aid to pilgrims of various ages and needs, as it was imperative to ensure a germ-free and virus-free living environment. Stringent measures were implemented to mitigate potential health risks associated with the continuous mass gathering.
Through their unwavering commitment to providing first aid services, these remarkable female volunteers from the University of Warith Al-Anbiyaa made a profound impact on the well-being of the community. Their selflessness and dedication to serving others serve as shining example of compassion and empathy.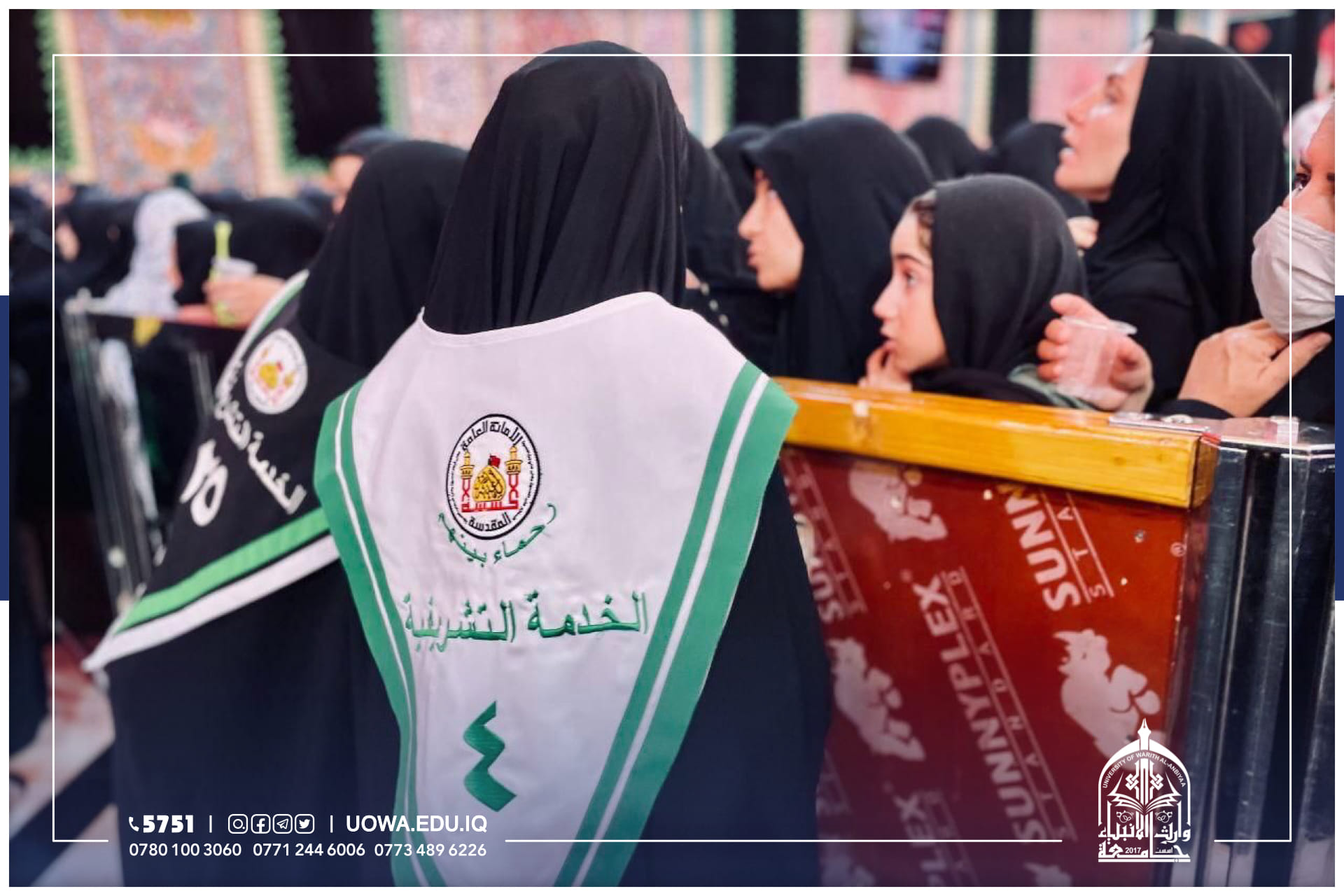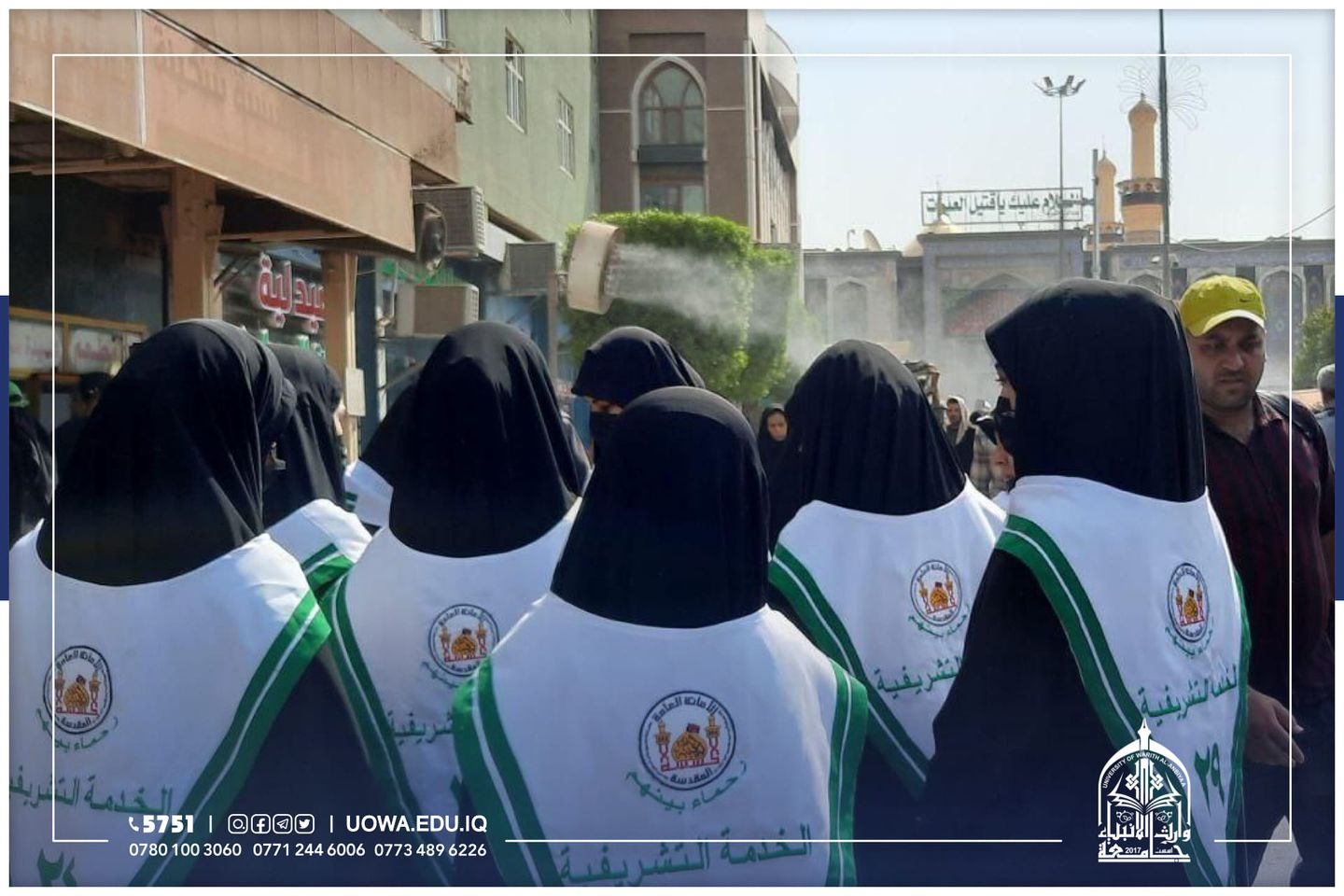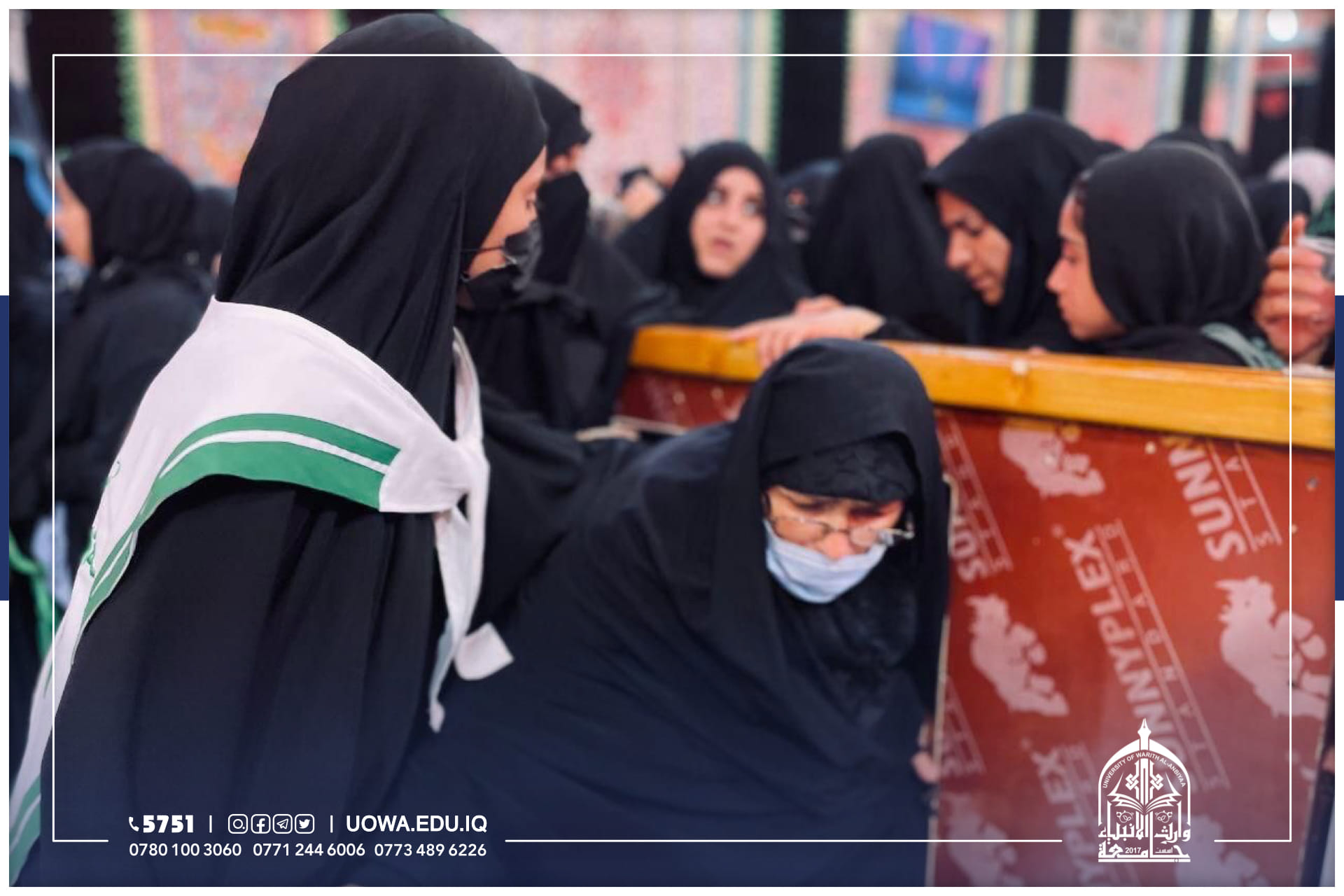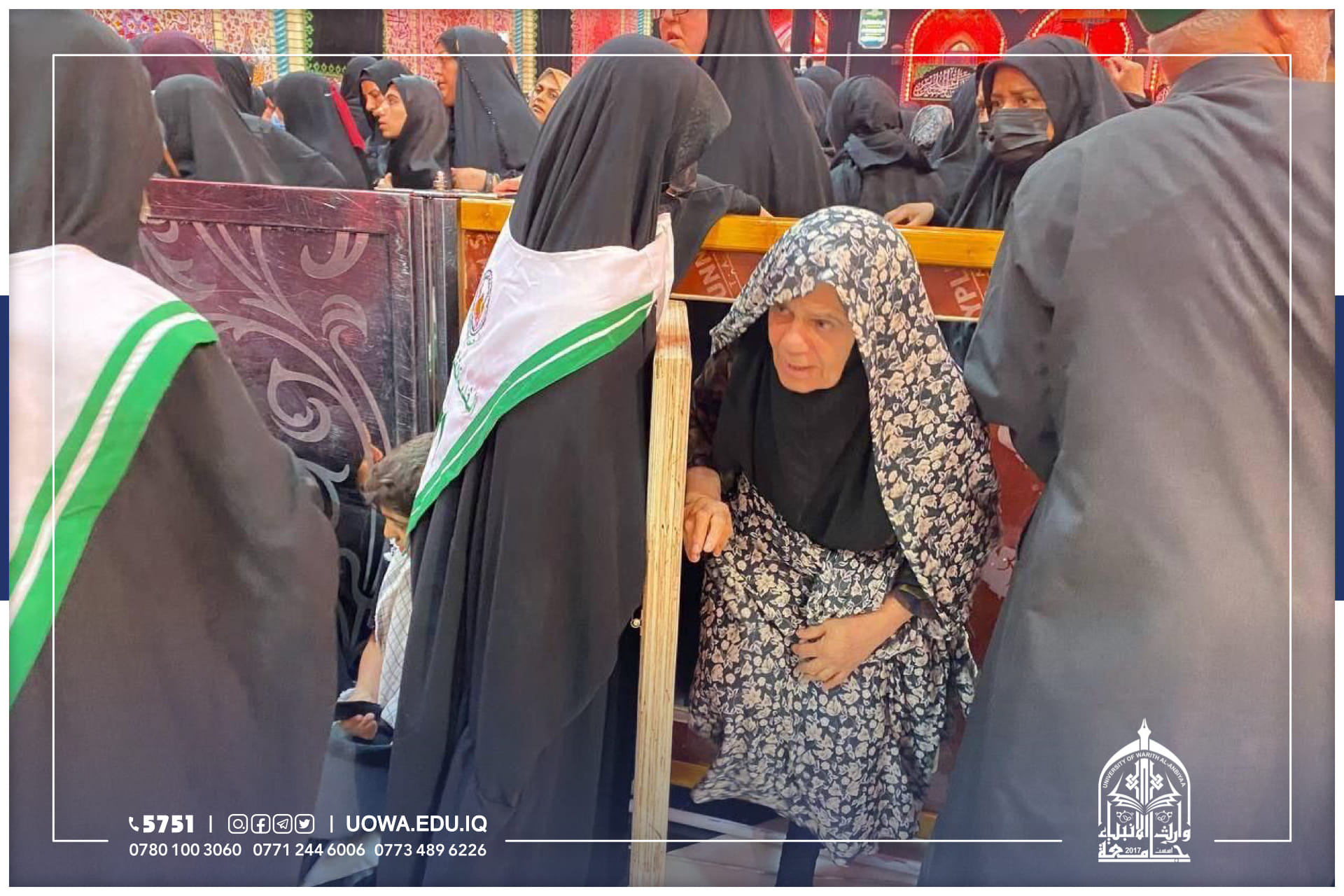 A Collaboration with UNDP to present SDGs oriented youth initiatives
Students of the University of Warith AlAnbiyaa participate in the final conference to present youth initiatives in an event sponsored by the United Nations Development Program, where the University of Warith AlAnbiyaa and UNDP provide a call for funding for several sustainable business initiatives under the umbrella of three central Sustainable Development Goals (SDGs) as chosen this year by UNDP.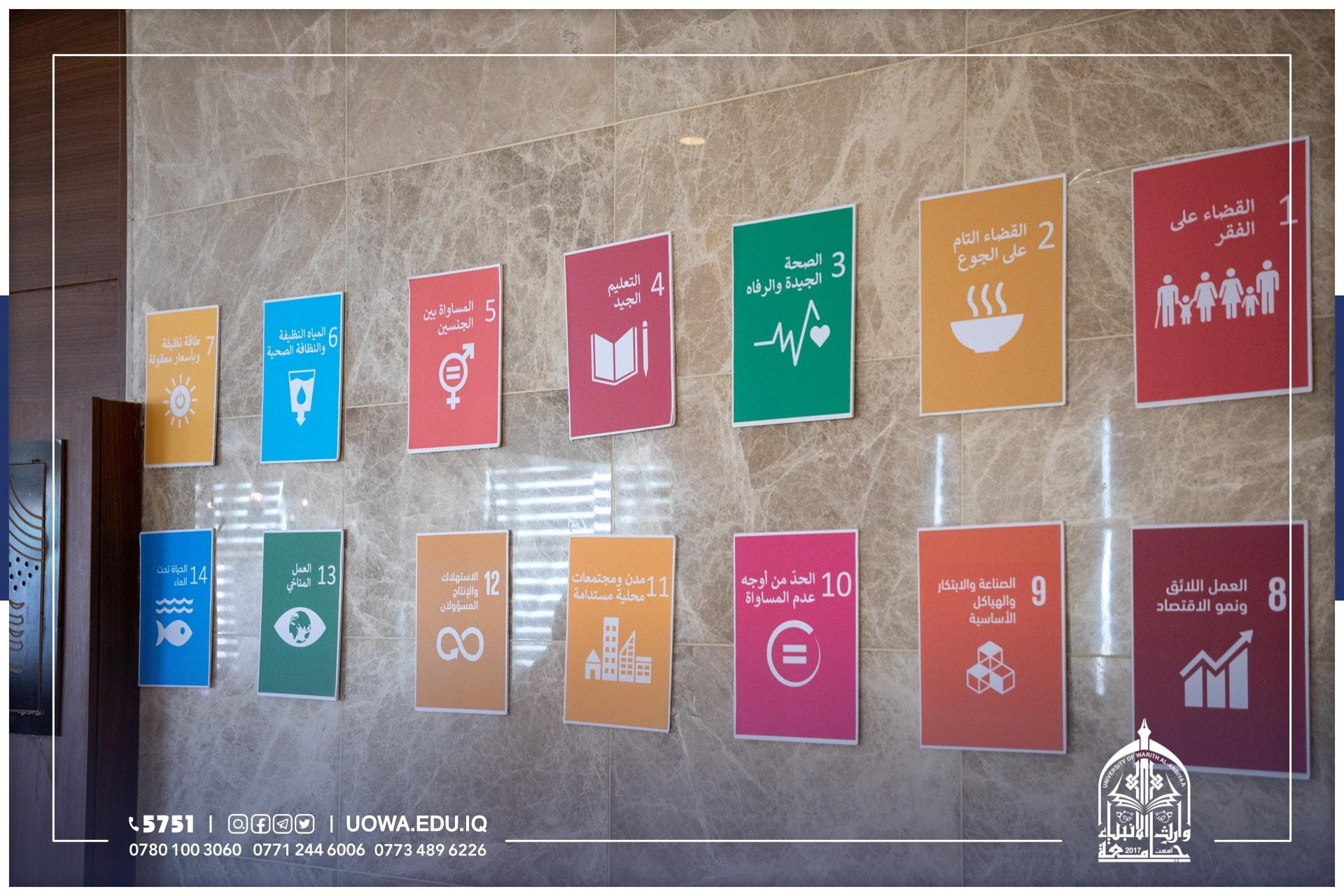 Students of the University of Warith Al Anbiyaa participated in the presence of the Scientific Assistant Professor Dr. Abbas Al-Damey from the university of Warith AlAnbiyaa and Governor of Karbala, Engineer Nassif Jassem Al-Khattabi, and President of the University of Karbala Mr. Bassem Al-Saidi, in the "closing conference to present youth initiatives in sustainable development"
The University students launched a number of creative ideas and initiatives that contribute to solving local problems they identified within their surroundings related to the SDGs where a group of medical and nursing students designed an app for the early detection of breast cancer and the English Language Club for Women from students of other departments, virtual reality applications for higher education and other ideas that have been patronized and supported by the University's Presidency and the United Nations Development Program.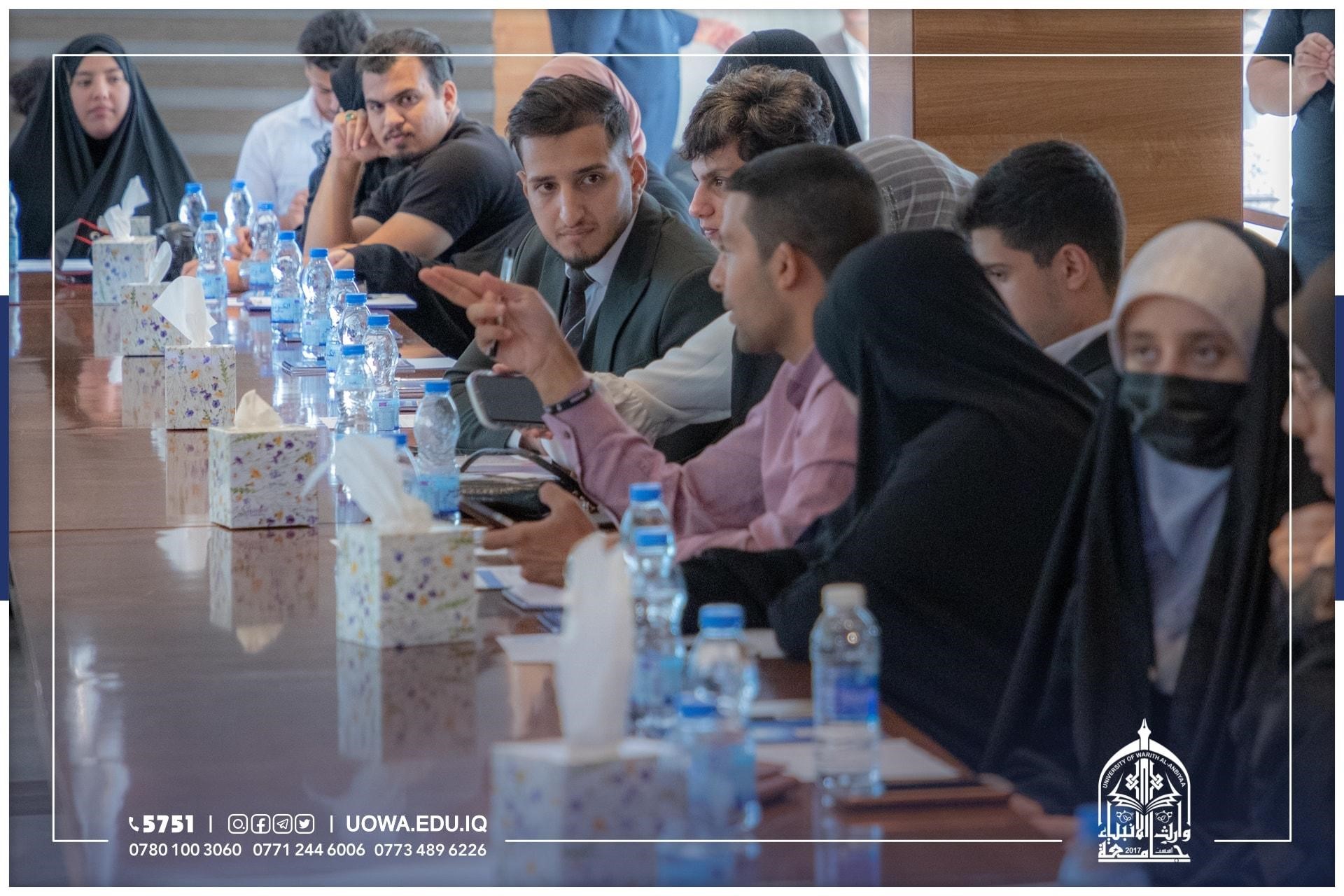 Like previous events, students had a great time with like-minded peers and have friendly conversations during lunch hour, they enjoyed and admire the food served. Students and graduates are more likely to infect others with sustainability-oriented mindsets since the University of Warith AlAnbiyaa is going to extreme lengths to induce a culture of sustainability in their students and staff and graduates, SDGs conferences, meet-ups, online lecture series, adverts, and policy implementation and display of sustainability motives and goals throughout the university has been a great help towards the introduction of such concept.
The event met with great success, where students unlike the first meeting with UNDP were more equipped to showcase their involvement and presentation for future contributions toward sustainable development. Students feel more motivated in gearing their ideas and initiatives with impact-based solutions for the greater good of society, where delegates from both universities and UNDP officials were satisfied with students' progress and initiatives.
The University of Warith Al-Anbiyaa and the UNDP Collaboration
                              (For sustainable society)
University of Warith Al-Anbiyaa A.S participated in an event hosted by UNDP, related to SDGs to raise awareness among the young populace about sustainability, particularly these three SDGs within the context of Iraq were introduced. Two other universities; AlZahraa university and the university of Karbala also took part in this event along with Warith AlAnbiyaa. Students were given small projects related to SDGs in question, so as to practically involve and motivate them to curate their research around sustainability. The University of Warith AlAnbiyaa is trying its best to incorporate sustainability in all aspects of education and administration. The University of Warith AlAnbiyaa is actively trying to compel its students and staff to be vocal and practical about sustainability in all aspects of life, and this event was the best opportunity for the university to induce a sustainability culture around campus. We know ideas can permeate through society, so we make sure to include our graduates in this event, so they as our ambassadors can take an active role toward a sustainable future. We look forward to similar future events.
Here are some of the pictures taken from that day.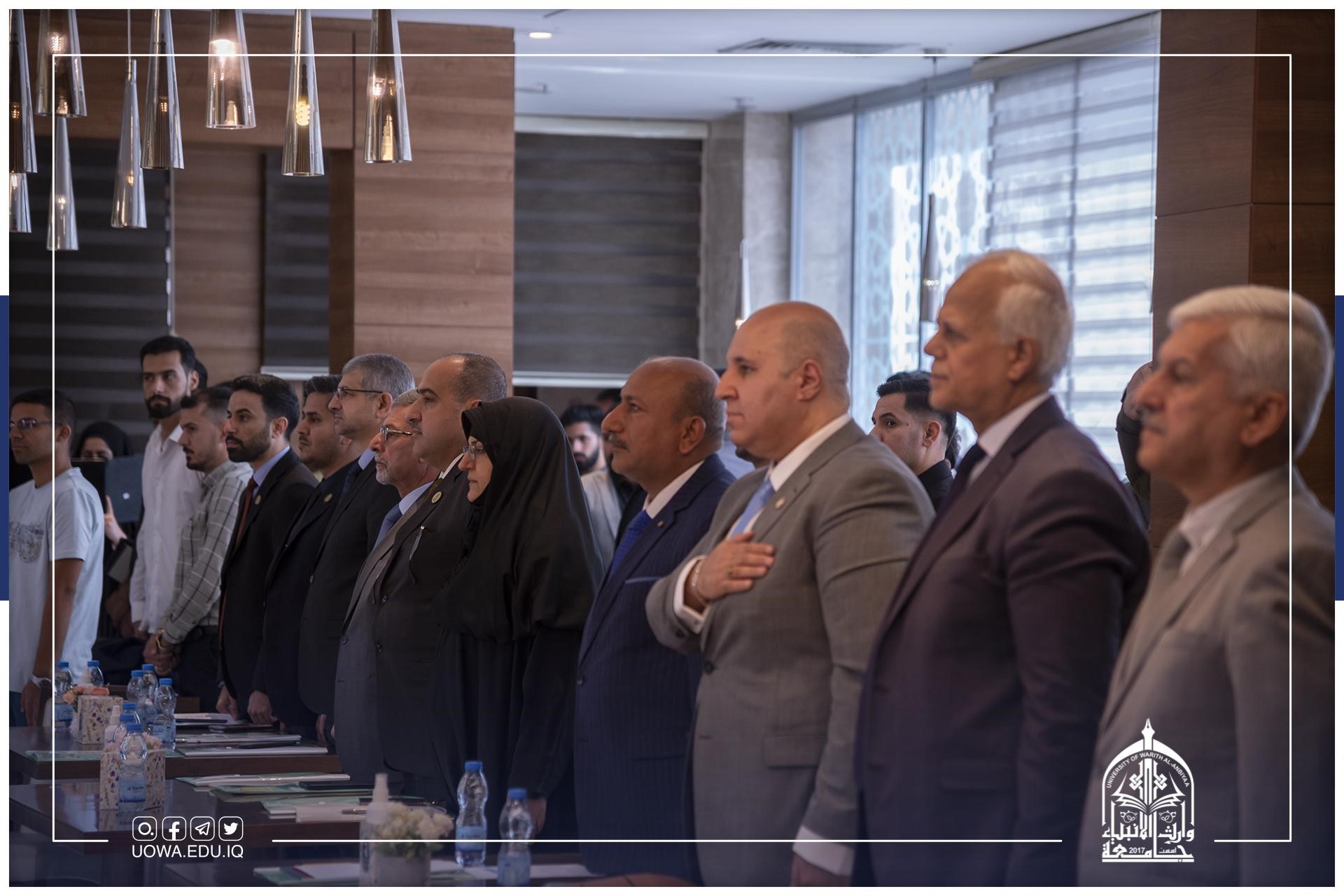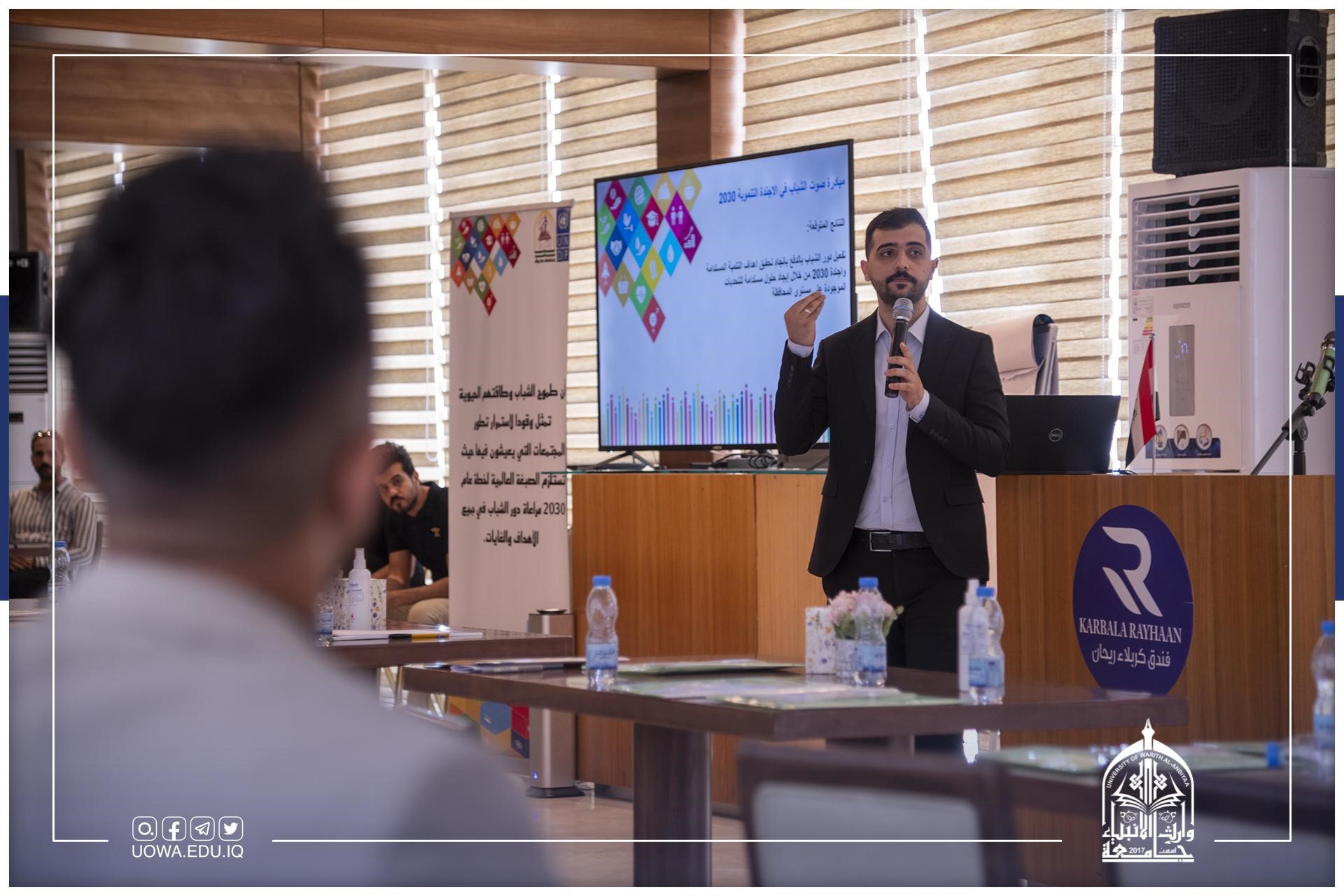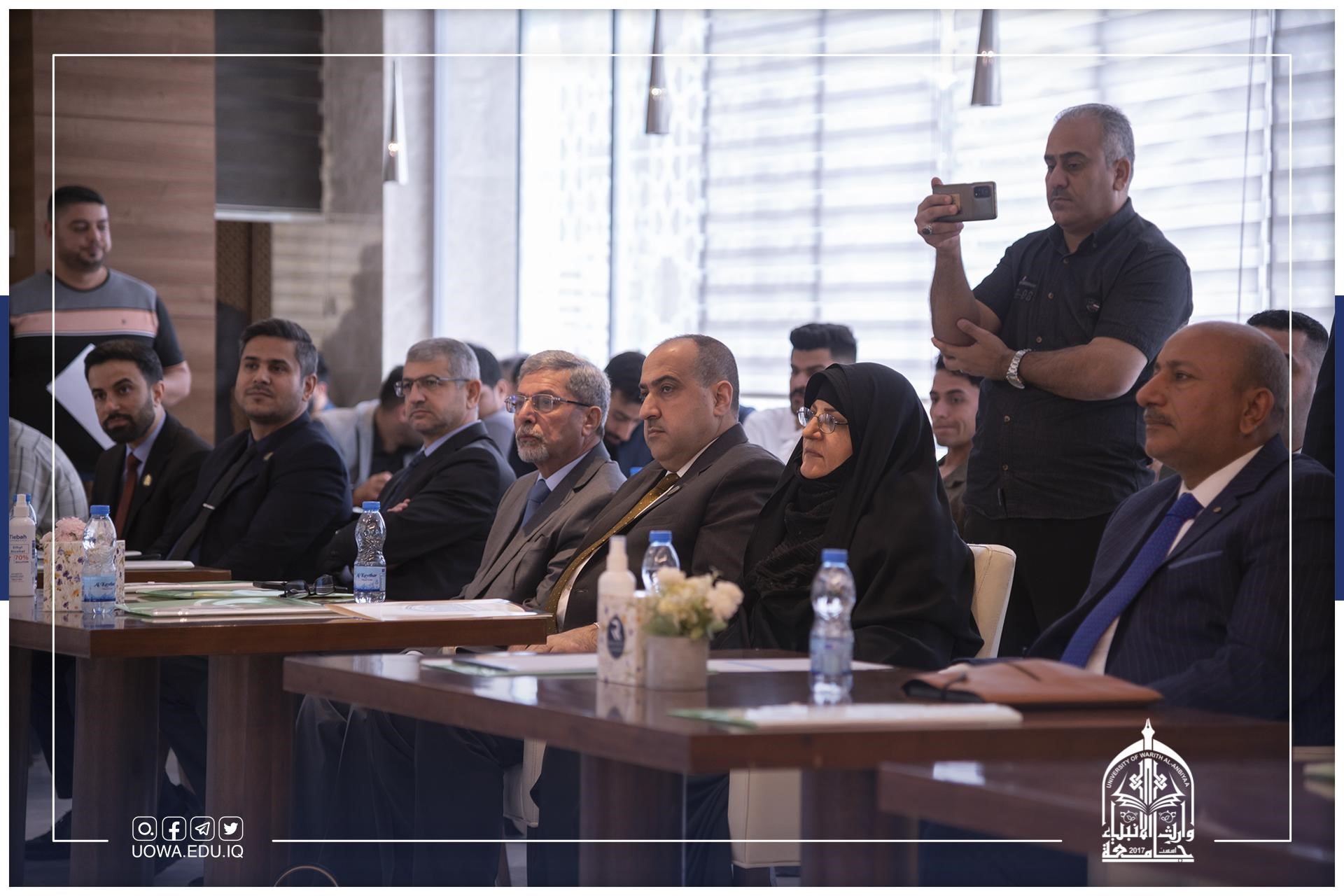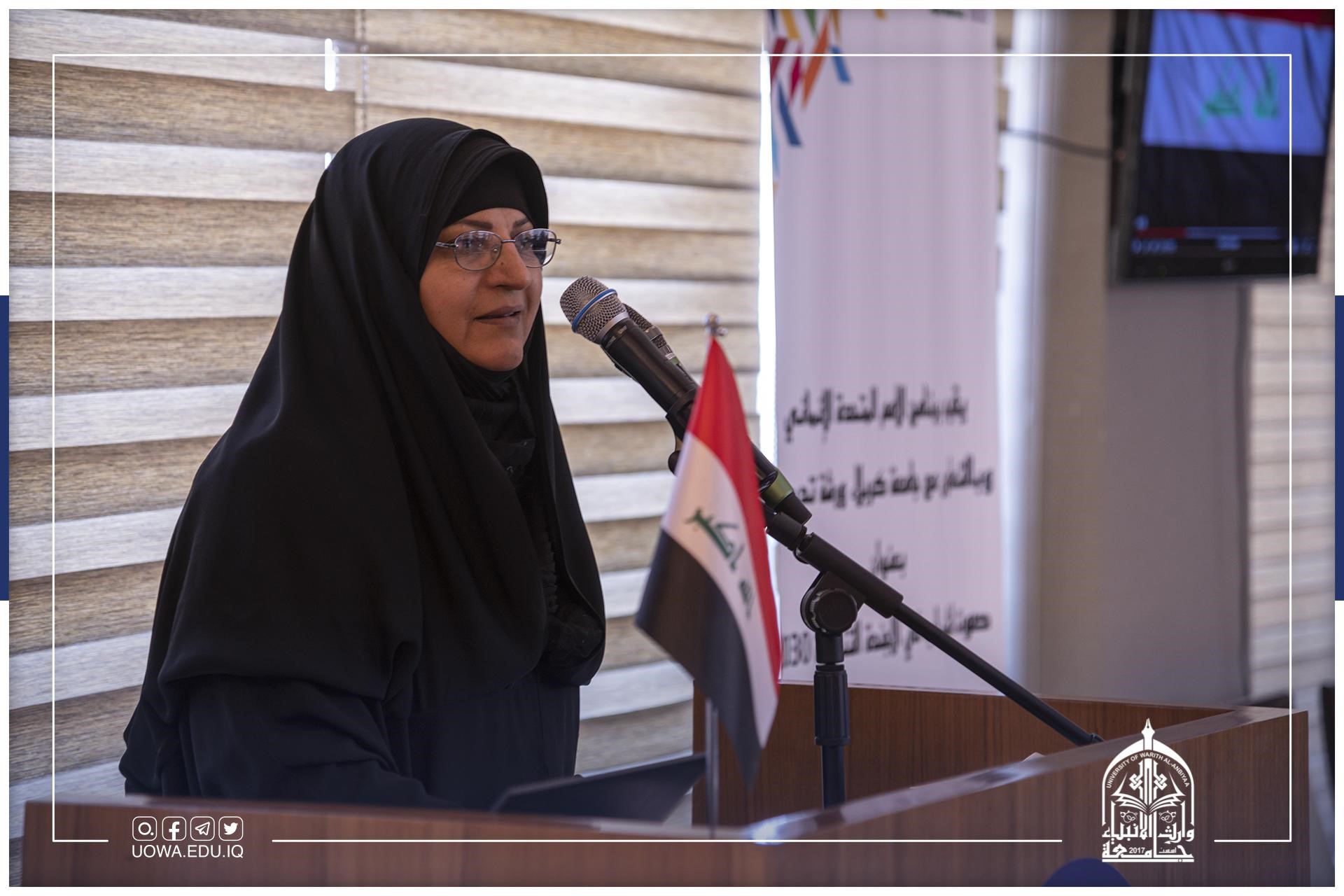 Global Partnerships for Sustainable Development: University of Warith Al-Anbiyaa's Student Exchange Initiative
In a remarkable demonstration of the University of Warith Al-Anbiyaa's unwavering commitment to knowledge sharing and exchange, a transformative initiative has been launched under the esteemed patronage of the university's President. With a firm belief in the power of international collaboration, the university has orchestrated a momentous student outbound exchange program to Egypt, aimed at fostering academic growth and excellence. This pioneering initiative aligns with the global agenda for sustainable development, particularly emphasizing the principles of partnership and collaboration.
Under this groundbreaking program, the university's brightest and most accomplished students, who are recipients of prestigious scholarships, have embarked on a transformative journey to the renowned University of Egypt for Science and Technology. Brimming with ambition and intellect, this exceptional student delegation comprises individuals from diverse faculties, ensuring a multidisciplinary approach to knowledge acquisition.
The immersive training program has unfolded within the illustrious walls of the University of Egypt for Science and Technology, where these aspiring scholars have been assigned to various departments including Civil Engineering, Nursing, Management, and Economics. Each department offers a distinct and comprehensive curriculum, meticulously designed to nurture talent, enhance critical thinking, and ignite a passion for scientific exploration.
This visionary initiative represents a meticulously organized and strategically planned framework, providing an invaluable opportunity for the exchange of scientific experiences. The students, having already honed their theoretical acumen at our esteemed university, are now presented with a unique chance to enrich their practical skills. By immersing themselves in the scientific and applied materials offered by the University of Egypt for Science and Technology, these talented individuals are poised to expand their horizons and transcend the boundaries of conventional learning.
As these exceptional students tread the path of academic excellence, their participation in this outbound exchange program signifies a firm step towards achieving the university's overarching vision of fostering global partnerships, knowledge dissemination, and sustainable development. This groundbreaking initiative resonates with the ideals and principles advocated by the international community, demonstrating the university's unwavering dedication to contributing to a brighter future.
Through this endeavor, the University of Warith Al-Anbiyaa exemplifies the spirit of collaboration and the pursuit of knowledge, fostering a transformative educational landscape that inspires students to become catalysts for positive change. As these exceptional individuals embark on this remarkable expedition, they are destined to become ambassadors of innovation, cultural understanding, and intellectual enlightenment, embodying the essence of sustainable development in an interconnected world.
Warith Al-Anbiya Partnerships: Through Healthcare Services for Arbaeen Pilgrims, Advancing SDG 17
Introduction:
The University of Warith Al-Anbiya, in an exceptional collaboration with the Medical Corps, Red Crescent, and Zain ul Abideen Hospital, has emerged as a trailblazer in providing comprehensive healthcare services to pilgrims during the revered Arbaeen pilgrimage. This article highlights the university's commitment to promoting health and well-being through its partnerships, specifically aligning with the United Nations' Sustainable Development Goal 17 (SDG 17), which emphasizes the importance of partnerships for the successful implementation of the Sustainable Development Goals.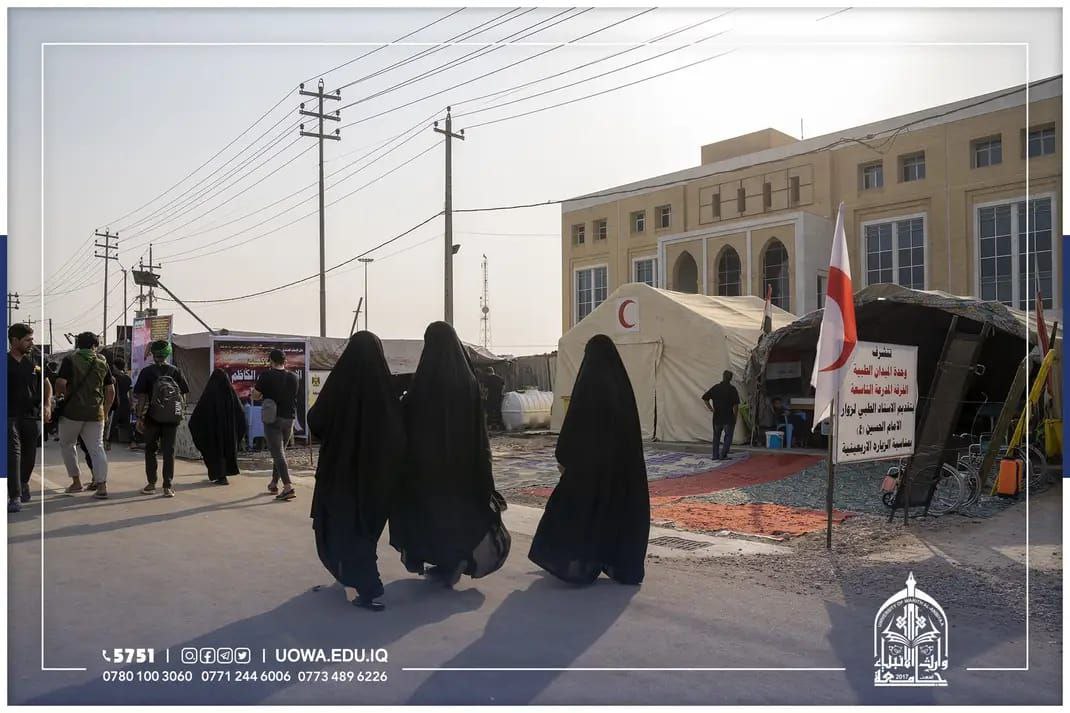 Enhancing Healthcare Access:
Harnessing the exceptional talents of its students from the esteemed College of Medicine and Nursing, the University of Warith Al-Anbiya plays a pivotal role in delivering vital healthcare services. Collaborating with the esteemed Imam Zainul Abidin Hospital, these dedicated students provide invaluable support, ensuring that pilgrims receive medical care with utmost professionalism and compassion. By integrating education and practical experience, the university empowers its students to apply their knowledge in real-world healthcare settings, fostering their skills and cultivating a deep sense of empathy and understanding for patients' needs. These partnerships exemplify the collaborative spirit of SDG 17, which promotes effective partnerships for sustainable development.
Comprehensive and Personalized Care:
Through its partnership with the Medical Corps and Red Crescent, the University of Warith Al-Anbiya offers an extensive range of comprehensive medical care and support services. The university's unwavering commitment to personalized care ensures that each pilgrim's unique healthcare needs are meticulously addressed. From primary healthcare consultations to specialized treatments, advanced diagnostics, and prompt emergency medical assistance, the university leaves no stone unturned in upholding the highest standards of care, and safeguarding the well-being of the pilgrims. This comprehensive approach is a testament to the power of partnerships in achieving sustainable development, as advocated by SDG 17.
Empowering Local Communities:
The University of Warith Al-Anbiya's dedication to healthcare transcends the Arbaeen pilgrimage. Actively engaging with local communities, the university provides accessible and affordable healthcare services, thereby addressing the healthcare needs of underserved populations. By promoting equitable access to quality healthcare, the University of Warith Al-Anbiya plays a vital role in improving the overall health and well-being of the community, aligning with the principles of SDG 17. The university's partnerships contribute to building the capacity of local communities and fostering sustainable development.
Impact and Future Commitments:
The pioneering efforts of the University of Warith Al-Anbiya in providing healthcare services during the Arbaeen pilgrimage have had a profound impact on the well-being of pilgrims. The collaborative efforts with the Medical Corps, Red Crescent, and Zain ul Abideen Hospital have not only expanded the university's reach but also enhanced the quality of healthcare services provided. Building upon these remarkable achievements, the University of Warith Al-Anbiya remains steadfast in its commitment to continuous improvement and innovation, striving to further enhance healthcare access and quality for Arbaeen pilgrims in the future. This commitment to partnerships and collaboration aligns with SDG 17's call to strengthen partnerships for sustainable development.
Conclusion:
The University of Warith Al-Anbiya's groundbreaking collaboration with the Medical Corps, Red Crescent, and Zain ul Abideen Hospital is a testament to its pioneering role in revolutionizing healthcare services for Arbaeen pilgrims. By integrating education and practical experience, the university equips its students to become exemplary healthcare professionals. The comprehensive and personalized care offered by the university ensures the well-being of pilgrims during the Arbaeen pilgrimage while actively working towards improving healthcare access in local communities. The university's unwavering dedication to SDG 17 exemplifies its commitment to fostering sustainable development through partnerships, leaving a lasting impact on the well-being of individuals and communities.